Acrylic Nail Warning!!!!!!!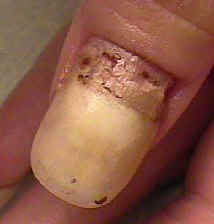 Beware of using oriental nail bars for Acrylic nails.
Since starting the beauty business cuteicals.co.uk I have heard and seen first hand the damage caused by people visiting these nail bars which use MMA in their Acrylics.
People love these nail bars as the Acrylics stay on for weeks, but what they don't realise is that the MMA seriously damages your nail and if you were to catch your nail your whole nail could be ripped off, the government have been for years talking about banning the use of MMA products in the UK and the USA and other countries already have banned it's use.
If you have had your acrylic nails done at a nail bar and the technicians were oriental then the chances are they have used MMA on your nails, they also need to use a electric file to remove the Acrylic and MMA from your nails again increasing the chances of more damage.
I will never touch clients nails who have recently had these type of acrylics fitted, the chances of your nails being damaged is too high and I refuse to risk your nails and my reputation.
If you have had these Acrylics fitted then please reconsider using a professional nail technician who does not use MMA in their Acrylics and leave at least Six-Eight months before having any treatment done to your nails to allow them to recover or you may lose the whole nail as the nail bed once damaged will never grow back correctly if at all.
See all my feedback on
Adel-Alwoodley-Armley-Beeston-Belle Isle-Bramley-Burley-Chapel Allerton-Chapeltown-Clarence Dock-Cookridge-Crossgates-East End Park-Farnley-Farsley-Gildersome-Halifax-Halton-Harehills-Headingley-Holbeck-Horsforth-Hunslet-Hyde Park-Kirkstall-Leeds City Centre-Meanwood-Middleton-Moortown-Morley-Oakwood-Pudsey-Rodley-Rothwell-Roundhay-Seacroft-Shadwell-West Park-Whinmoor-Woodhouse-Wortley
Latest News

Stiletto Nails
The latest must have in Acrylic nails seems to be Stiletto nails, either natural or topped with your favourite colour. These are very unqiue and really make you stand out from the crowd.(Nicole Scherzinger has them in the new muller de luxe corner advert )

2-4 hour fast tan
From August I will be able to offer clients a fast 2-4 hour developing spray tan, using Tantruth. This is a fantastic new product which will allow for last minute bookings, so you can go to the ball.x

Rockstar Nails
Rockstar nails are glitters encapsulated in gel polish, which gives an amazing look and finish to your nails. These can be done on both natural nails and Acrylics.